Vacation 2001
We visited Chicago, the D.C. area, and the Northern Neck of Virginia over 10 days in mid-August.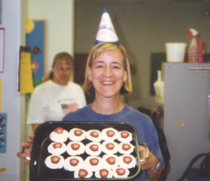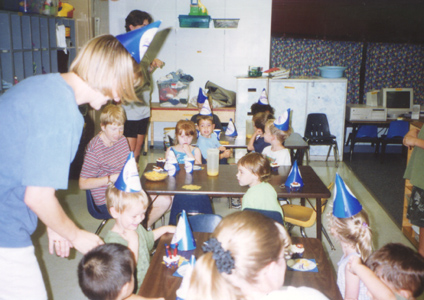 Bill turned 3 during our vacation, and some of the vacation was taken up with celebrating this birthday. The first of his parties occured before the trip at his daycare, and was attended by everyone in the family and catered by Martha. The party had a baseball theme, altogether appropriate given Bill's current obsession with the national pastime.
On Friday the family drove to Chicago on the first day, and spent the night at a downtown Marriott. This hotel is perhaps nicer than a typical vacation haunt, but well worth it because of the convenient short train trip to see the Cubs. (Thanks for the advice, Bill.) Taking a train anywhere is treat for Bill and Jake, but to a baseball game!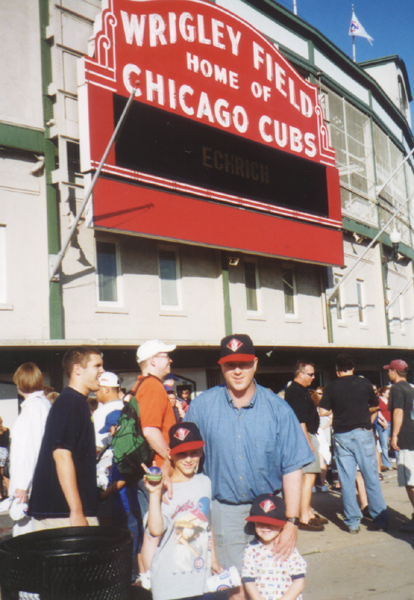 The Cubbies beat the Giants on a sunny and mild Friday afternoon. The best moment was an intentional walk of Sammy Sosa that brought up the new cub, Fred McGriff, who's been struggling. He promptly hit a grand slam that put the game away for Chicago. Jake bought the world's greatest baseball, which is blue and green and has a picture of Wrigley on it. Bill made many friends, and went over to right field to see Sammy, his favorite player, up close.
Wrigley Field is, of course, a famously wonderful place.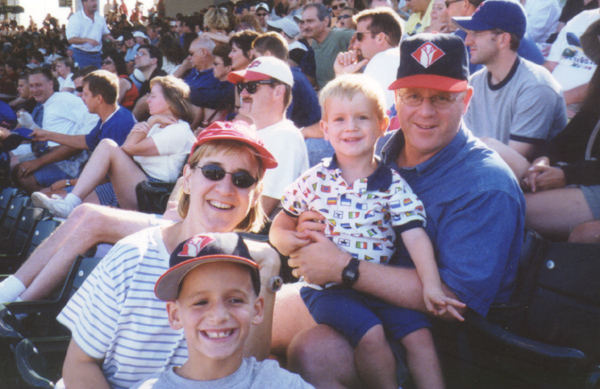 The stadium and field are lovely, a nicely landscaped grass field nestled in a downtown neighborhood, but that doesn't explain the magical feeling a baseball fan feels there. The Cubs fans are reputed to be baseball sophisticates, but we saw no evidence of that. (Many of the fans in the section below us were drunk and spent a good part of their afternoon throwing peanuts at strangers.) It dawned on Matt in the fifth inning what makes Wrigley special: There is no advertising! No outfield signs, no blaring ads over the loudspeaker, no nothing! Wrigley is much better than other major league parks because they keep baseball at the center of the experience.
Dinner was Thai food near the hotel at the Star of Siam - good place! The next day, Saturday, the family traveled on American airlines to BWI airport.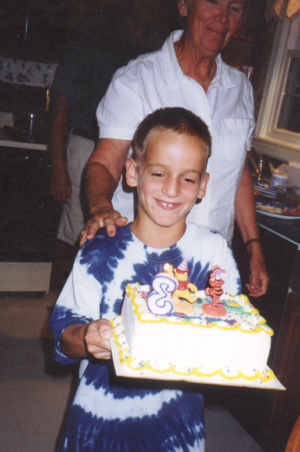 Bill had been told for a long time that he can't have gum until he is 3, and chewed very proudly during the flight. Pop-pop picked us up, and that evening we celebrated Bill's birthday at Grandmom's and Pop-pop's house in Silver Spring with some of our family. We got to meet JJ and Niki, Tricia's and Tom's foster kids, and there was an extended demonstration of hitting and fielding in the backyard.
The next day everyone went to Columbia to celebrate Uncle Tommy's "Jack Benny" birthday. We got to see cousin John, Sally, and Eric. Afterward, Jake and Bill drove with their grandparents to the new vacation home ("Mar Harbour") in the Northern Neck on Sunday, leaving Matt and Martha 2 days to be tourists on their own.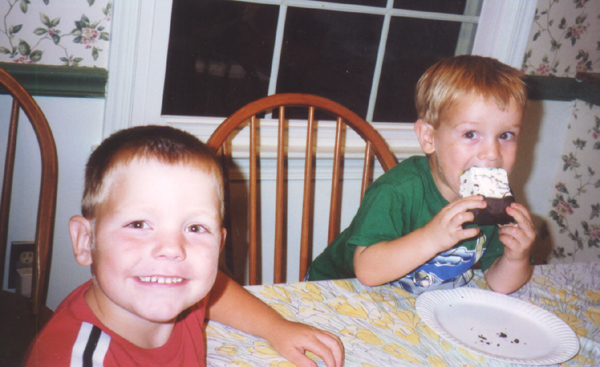 Matt and Martha visited an exhibit of 19th century German painting at the National Gallery of Art. The exhibit was very interesting and some of the paintings intriguing, but the great diversity of styles of Germany over this time period makes it hard for novices like us to learn a lot. The Smithsonian's American History museum was interesting and engaging, especially an exhibit on the emergence of computing and networking technologies. (The TRS80 that Matt coveted as a youngster is now, literally, a museum piece.)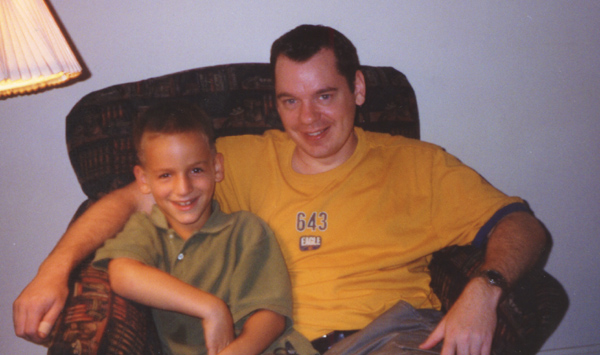 Matt and Martha ate dinner at Mrs. K's Tollhouse, a sentimental favorite of Matt's where he went after his first communion and before his senior prom. The food was really quite good. In keeping with a visit to Maryland, Matt had a crab-stuffed chicken, and Martha a pair of crabcakes.
Matt and Martha had a nice lunch with Matt's sister Marci, who works as a lobbyist for the American Nurses Association.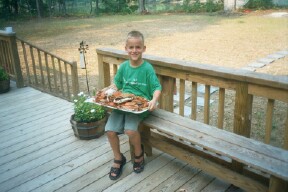 The food was good - Thai again! - and fortunately a pair of too-loud congressional staffers left soon after we arrived. They ended up spending the night at Marci's place, then drove down to rejoin Bill and Jake at the creek house on Tueday.
Everyone was having fun, and the grandparents seemed unfazed from having taken responsibility for their grandchildren for a couple days. The house looks great, and is now in full vacation home operation. Jake took over crabpot servicing, and succeeded in catching spots from the pier. Jake and his assistants did a good job on the crabs, for everyone ate crabs the first night that were quite good. Grandmom and Pop-pop led tours on the creek and river in the boat, the canoe, and their new fishing boat. Matt, Martha, and Bill also visited the Bed and Breakfast from Matt's and Martha's honeymoon in nearby Lancaster, which is now a sculling school.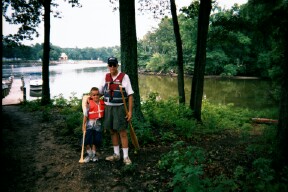 Jake and Bill played a lot of baseball in the yard, and Jake began mapping out Bill's major league career.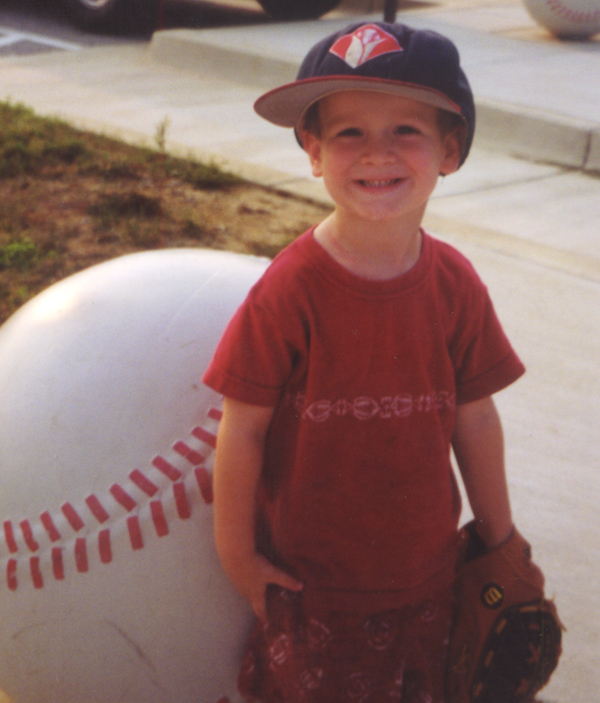 On Thursday everyone returned to the D.C. area. Uncle Tommy, JJ and Matthew, and Aunt Mary joined the gang to watch the Bowie Baysox (not Bosox - thanks, Susan) lose to the Akron Aeros 7-4. The Baysox play in the AA Eastern League, and their stadium is attractive and fun. The Baysox had many fielding problems. After the game there was a fireworks show, which everyone enjoyed but - heh - it's not like the fireworks extravaganzas back in Iowa!
Friday featured a trip to the National Zoo by Pop-pop, Matt, Jake, Matthew, and Bill.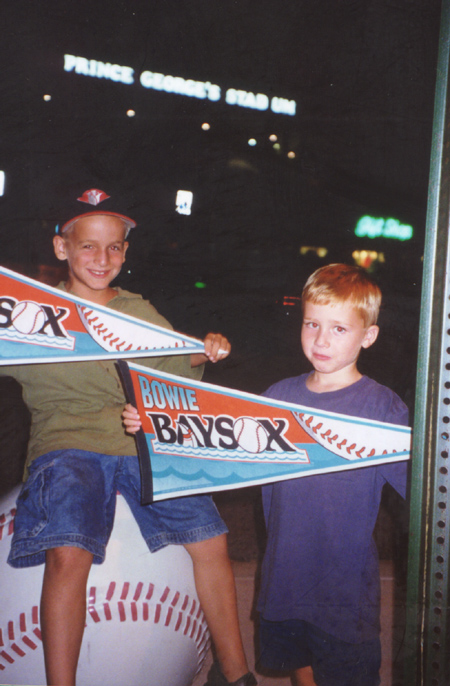 It was good to see the pandas and monkeys, but it was very hot. Each of the outnumbered adults spent a good deal of time on bathroom escort duty. This trip involving all the children was supposed to allow Grandmom and Martha to "work on cleaning the house", but any pretense that they would be working during the zoo tour was abandoned when they were caught discussing where they would go out to lunch.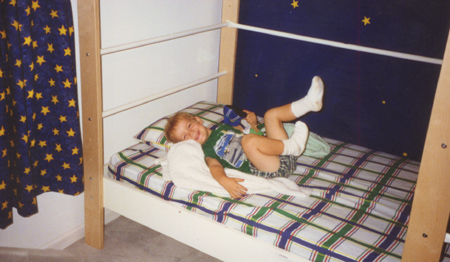 Finally, on Saturday, it was time to return to Cedar Rapids. Pop-pop drove the Iowans to the airport very early, and the trip to Chicago was uneventful. As planned months before, the family visited the Chicago IKEA store. Matt bought 3 kinds of salmon for breakfast and the family bought bunkbeds for the boys. Taking the scenic route back to Cedar Rapids, the family on a whim stopped at Tabor Home Vineyards & Winery, a small Iowan wine producer featured on NPR recently. After some hurried tasting, Matt bought a few bottles.
On Sunday Matt and Martha assembled the bed, and that night the boys got to sleep a little later than normal due to their excitement about their room's new arrangement.
Quite a vacation!