Texas 2001
The Wildings began their summer with a working vacation for Martha and a vacation for everyone else. They flew to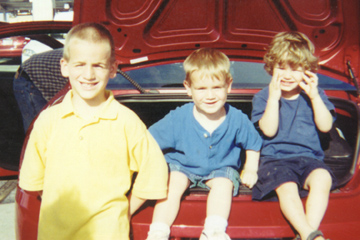 Austin on June 7 and were greeted at the airport by Grandmom & Poppop Roebuck and cousin Alex. Alex thinks the Austin airport is "his" airport, so he wanted to be there for our arrival. On Friday, Martha's Dad celebrated his birthday at a restaurant of his choosing, Sea Island. It was fun, and Jake was especially happy to present Poppop with his present -- a picture drawn by Jake of his grandfather teaching him to throw a football, now hanging in the Roebucks' living room.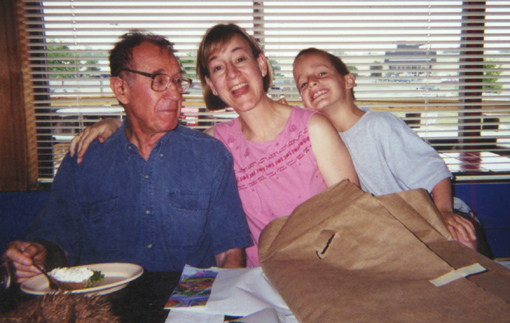 On Friday evening, Matt and Martha joined some friends for a Taste of Weekend, while the boys stayed with their grandparents and Uncle Bobby. Bill and Jake spent most of 5 days together without the parents swimming, golfing, playing baseball, watching movies, and generally having a blast. Jake jumped off the high dive for the first time. Uncle Carey & Aunt Marcy took all the boys to Zilker Park on Sunday afternoon. You'll have to wait until Jake learns to develop Web pages before you will get all the details, but suffice it to say that a good time was had by all.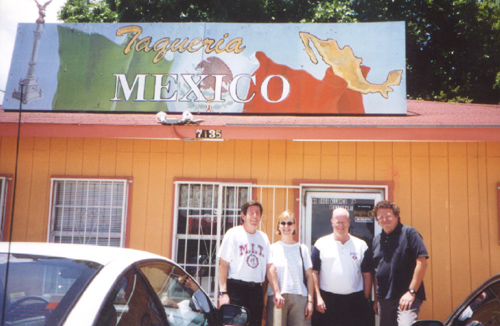 The grandparents were exhausted when it was all over, but they do love their grandsons!
Meanwhile, Matt and Martha spent a night at the lovely new home of their old friends, Tim & Teri. T & T now have a new little T, Travis, who entertained us for awhile until his Dad got home. Travis stayed with the babysitter while the rest of us joined a group of friends for dinner at the Clay Pit, an Indian restaurant in downtown Austin. It was great to see some old friends again and eat a delicious meal. This meal constituted the beginning of the Taste of San Antonio (well, central Texas) weekend. See Bill Bevier's complete report at tasteof.org.
(Picking up where Bill leaves off…) Martha attended the Special Libraries Association meeting in San Antonio until Wednesday of that week.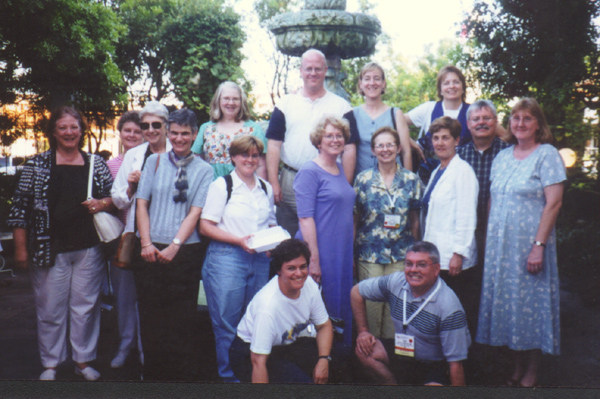 An easily-corrected mistake at checkin may have led the clerk to give the Wildings a break. Somehow the Wildings got an extra-big room at the top of the hotel with a breathtaking view of downtown San Antonio. It was a top-notch conference for Martha. She rented a big "party van" and carted 15 of her friends from the Education Division to one of her favorite restaurants -- La Fogata. Martha became Chair of the Education Division after serving the previous year as chair-elect. With her colleagues Jacqueline of ACT and Karen of ETS Martha gave a presentation about testing libraries. Afterward, the presenters and their groupies had drinks at the historic Menger Hotel bar. One evening Martha and Matt attended a big shindig put on by Lexis-Nexis that included a bus ride to a nearby ranch, lots of food and drinks, a live C&W band, and a rodeo. It was a great time. Matt prefers librarian conferences to the kind of conferences he usually attends.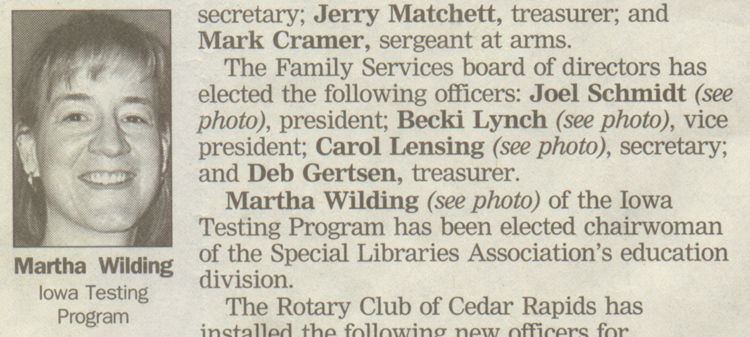 Matt had 5 days of leisure. After the tasteof weekend it was particularly restful. He slept. He walked. He read. What a life! On Wednesday he drove to Cedar Park where he picked up the boys so that the grandparents could get a little rest. He took them to play with their friends the Russinoffs, while he attended the regular ACL2 research meeting at the University of Texas. After the meeting, he and the boys headed back down to San Antonio.
The Wildings spent one last night in their fabulous hotel room. Matt was very nervous about small children on a 29th floor balcony with a small railing, so he closed the curtains and he and Martha pretended to be on the ground floor. It was a long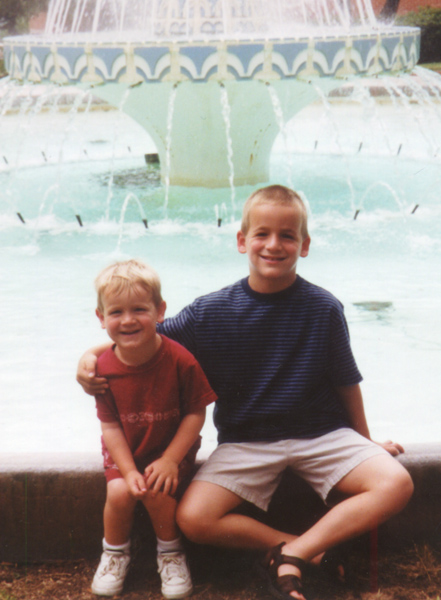 night. Bill did not want to sleep, but instead wanted to cry. Sometime around 2AM he & his father were pacing the halls when they ran into a couple of Marriott security guards. They were checking out a report of a crying baby and wanted to make sure the baby was all right.
Breakfast in the hotel restaurant was with Martha's friend Karen. Next came a too-brief tour of Martha's alma mater, Trinity University. Then it was off to Sea World, where the Wildings hooked up Uncle Carey, Aunt Marcy, & Alex for a day of fun. It was a pretty hot day - duh! After a few shows - the Shamu show was not as good as it had been 9 years before when there was a really big Shamu - the group moved over to the water park. Not having brought swimsuits did not stop Marcy, Jake, & Matt from going down some cool water slides. Carey, Alex, Martha, & Bill stuck to the wave pool. By the end of the day everyone was exhausted. The trip back to Austin featured some pretty good barbecue and some very tired little boys.
The last day there was more swimming and a private swimming lesson for Jake from a guy Grandmom met who was 3 days from joining the foreign service. Carey, Marcy, & Alex came over for dinner. The next morning they travelled back to Alex's airport to fly home to Iowa. A nice week!